Description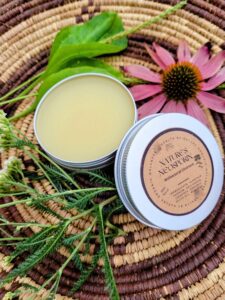 Nature's Neosporin
Looking for a natural alternative to antibiotic ointment? Look no further!
Mother nature has provided the best replacement.
The plants used in this remedy contain antibacterial, antifungal, antimicrobial and astringent properties that make it perfect for everyday skin aliments.
Ingredients:
•Plaintain (Plantago major) astringent, anti-microbial anti-bacterial, anti-inflammatory
•Echinacea (Echinacea purpurea) antibiotic, antioxidant, anti-inflammatory properties)
•Yarrow (Achillea millefolium) Hemostatic;blood stopper, anti-inflammatory, antimicrobial
•Comfrey (Symphytum officinale) contain allantoin; substance that helps new skin cells grow, anti-inflammatory
Uses:
•Wounds, cuts, scrapes
•Burns
•Insect bites
•Bites
•Bruises
•Splinters and slivers
How to use: Apply ointment to affected area and cover if necessary. For stubborn splinters or slivers, apply ointment and cover overnight. Continue this process until sliver is at the surface.
Use as needed.
 Safety considerations: Do not use if you are allergic to any of the ingredients. Test a spot on the inside of the wrist for any reaction. Keep out of reach of children. This product is not meant to treat, diagnose or cure any illness or disease. This product nor these statements has been approved by the FDA. Use at your own risk. View our disclaimer here.